In this age of working from home, online learning, teaching others remotely, tele-medicine, and so on, various companies offering to get you online are everywhere you turn.
Microsoft 365 Video Conferencing, Google Meet, Zoom, GoToMeeting, BlueJeans, and even FreeConferenceCall.com is adding video to their conferencing service.
One thing is for certain. People are going to be sharing time at great distances more and more whether they are those teaching – or – those having to learn.
The days of just going to work with the luxury of no one actually "seeing" into your personal space are diminishing.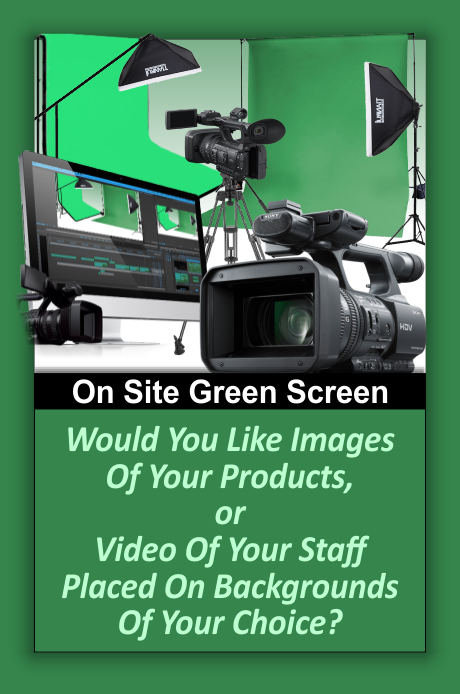 To address this, most of the big names in the video conference field have started offering software solutions that apply some video wizardry to try and cancel out everything but you in the field of view of your webcam. The trouble is when these solution fail, whatever the camera can see is immediately blasted out there for others to judge.
FACT:
Not everyone lives in a model home and having to keep an area of your living and/or work environment looking as if it is not actually lived in is just not realistic.
On a larger scale, for the need for controlled "green screen" environments offers the opportunity for companies and individuals to shoot their own product shots and infomercials. Having the ability to generate virtual sets and overlapping imagery, with a little planning you can look as professional as those on the nightly news. Technology that was once reserved for the largest of companies with the biggest of budgets is now completely accessible to almost everyone.
Whether your needs are for an individual, a group of people, or for products to be shot in virtual environments, ActionCore can handle it all! And the best part about what we offer is that we can get you and your team in a position to handle it completely "in house" removing any dependencies on external companies.
Whatever size space you can semi-dedicate to a green screen environment, we can set it up and teach you how to get the job done. Or, if you would rather depend on a team you can trust to accomplish such things for you, we can absolutely provide those long-term solutions as well! With the power of today's computers and supporting software, it really is up to you as to how much or little you and your staff wish to participate.